YOU'VE STUMBLED ACROSS A FEATURED ARTICLE!
Now go run off and play with your little toys or should I say article management?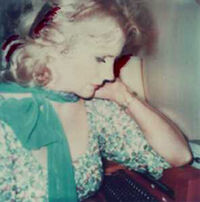 V.C. Andrews Memorial Page
Biographical Information
Birth Name: Cleo Virgina Andrews
Born: June 6, 1923
Died: December 19, 1986
Birthplace:
Portsmouth, Virginia
Occupation: Artist, Author.
Writing Period: 1979 - 1986
Family Members
Identities to be kept private!
This page dedicated the memory of the fantatic writer, Virgina C. Andrews (aka. V.C. Andrews). Virginia Andrews Memorial Page. This page features the life and death of a gifted writer, Virginia C. Andrews. Even long after her death her ghost writer Andrew Neiderman, continues each of books with such talent and keeps readers on the edge of their seats.
Memorial
Edit
Cleo Virginia Andrews
"Beloved Novelist"
(1923 - 1986)
May she rest in peace!

See Also: