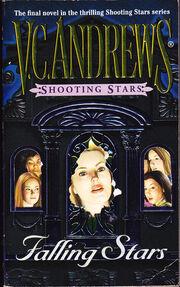 The Falling Stars is the fifth book and the conclusion of
The Shooting Stars Series
by
V.C. Andrews
, ghostwritten by
Andrew Neiderman
, and published in 2001. It is a full length novel narrated by Honey. The finale of this series brings all four girls--Cinnamon Carlson, Ice Goodman, Rose Wallace, and Honey Forman--together at the prestigious Senetsky School of Performing Arts in New York City. Upon arrival, these new students realize that the road to their dreams presents new challenges. Madame Senetsky proves to be very strict and micromanages their lives, while the Senetsky mansion itself hides many dark secrets the girls covertly unravel while perfecting each of their talents.
Synopsis
Edit
All The World's A Stage—but What If The Play Doesn't Go As Planned?
Four talented girls from vastly different pasts share a dream of stardom: Cinnamon, the edgy actress; Ice, the phenomenal vocalist; Rose, the beautiful dancer; and Honey, the first-rate violinist. The four meet at the prestigious Senetsky School of the Performing Arts—housed in an ornate New York City mansion—and become instant friends as they take off on a dazzling whirlwind of intense classes, theater outings, and celebrity-studded parties.
But they soon realize this is no ordinary school. Madame Senetsky pushes the girls' studies beyond reason. She controls their social lives. And they get the strange feeling someone is watching them. But who... and why?
Cinnamon, Ice, Rose, and Honey set out to untangle a shadowy web of Senetsky family secrets. As they explore dark corners and hidden rooms, every creak and moan of the old mansion tells a story too frightening to repeat. A devastating story that can destroy their dreams...