When a beloved father dies, sadness turns into terrror for four young children, when they enter
Foxworth Hall
. At Foxworth Hall,
Chris
,
Cathy
,
Cory
and
Carrie Dollanganger
are all met by their cruel grandmother
Olivia Foxworth
, who treats them with scorn, calling them the children of the devil - devils issue - devils spawn. She keeps the children in a locked room, leaving them to discover a mysterious attic that holds deep dark secrets. Not to mention the grandmothers high hopes that the children will not live out the year.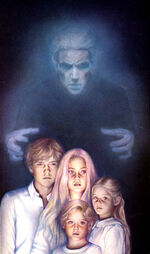 Books in this series
Edit
Ad blocker interference detected!
Wikia is a free-to-use site that makes money from advertising. We have a modified experience for viewers using ad blockers

Wikia is not accessible if you've made further modifications. Remove the custom ad blocker rule(s) and the page will load as expected.