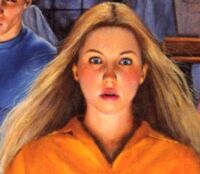 Pearl Andreas
Biographical Information
Birth Name: Pearl Andreas
Relatives: Ruby Landry (mother), Beau Andreas (father), Pierre Andreas (brother), Jean Andreas (brother), Gabrielle Landry (Grandmother, deceased), Pierre Dumas (Grandfather, deceased), Giselle Dumas (Aunt, deceased), Jack Landry (Great-Grandfather, deceased), Catherine Landry (Great-Grandmother, deceased), Jean Dumas (Great Uncle), Paul Tate (Half Uncle, Adoptive father, deceased), Jack Clovis (Love Interest)
Status: Alive
Occupation: Student
Appearances: Pearl in the Mist, All That Glitters, Hidden Jewel, and The Landry (Actually seen).
Portrayed By: N/A
Pearl Andreas is the daughter of Ruby Landry and Beau Andreas, and the older sister of twins Jean and Pierre Andreas. She was born in Houma, Louisiana. Her mother, Ruby, became pregnant with Pearl after having a passionate romance with Beau Andreas. After fleeing from a back-alley clinic, Ruby returns to her roots in the bayou and has Pearl in the flimsy shack she grew up in in the middle of a hurricane.
Ad blocker interference detected!
Wikia is a free-to-use site that makes money from advertising. We have a modified experience for viewers using ad blockers

Wikia is not accessible if you've made further modifications. Remove the custom ad blocker rule(s) and the page will load as expected.