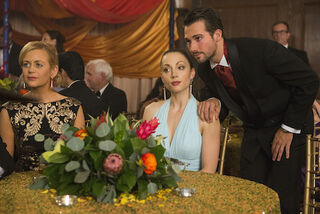 Melodie Richarme was the first wife of Jory Marquet and his ballerina partner since a young age. Melodie has curly blonde hair, a ballerina body, and blue eyes. She is the mother of twins, Darren Marquet and Deidre Marquet and has a close relationship with Jory's mother Catherine Dollanganger, until she leaves Jory when he is crippled and has an affair with Bart Foxworth. Eventually, Melodie finds a new ballet partner, and marries him.
Melodie left her husband after he became crippled. During a ballet performance, two columns, wet with sand, collasped on her husband, leaving his body paralyzed from the waist down. Melodie could not bear the fact her husband could not dance anymore and starts an affair with Bart and just sees him as a replacement for Jory. When she gives birth to twins on Christmas Day, she doesn't perform her duties to her twins and Jory and eventually abandons them.
Ad blocker interference detected!
Wikia is a free-to-use site that makes money from advertising. We have a modified experience for viewers using ad blockers

Wikia is not accessible if you've made further modifications. Remove the custom ad blocker rule(s) and the page will load as expected.