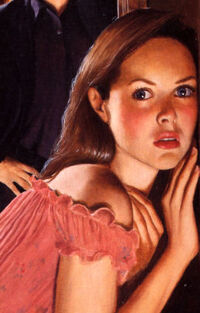 Grace Houston
Biographical Information
Birth Name: Grace Houston Montgomery
Relatives: Jackie Lee (Mother, deceased), Winston Montgomery (stepfather, deceased), Roland Houston (Father, deceased), Kirby Scott (2nd Stepfather), Linden Montgomery (Son), Willow De Beers (Daughter), Miguel Fuentes (Son-in-law), Hannah Eaton (Granddaughter), and Claude Fuentes (Grandson).
Status: Deceased
Occupation: Landlady (formerly)
Appearances: Willow, Wicked Forest (Mentioned only), Twisted Roots (Mentioned only), Into the Woods and Hidden Leaves (Mentioned only).
Portrayed By: N/A
Grace Montgomery, is the mother of Willow De Beers and Linden Montgomery, in the De Beers Series by V.C. Andrews. As a child Grace was very close to her father Winston Montgomery, who used to call her Sailor Girl, however Winston later died in a helicopter crash and was declared KIA. Grace's mother Jackie Lee Montgomery remarried twice, once to Roland Houston and Kirby Scott. Kirby later on raped Grace and fathered Linden with her, less than a few days after Grace's rape, Kirby took off with the family fortune and was never seen again by Grace and Jackie Lee, knowing nothing of his son Linden's existence, until his second appearance in Wicked Forest. A few months after the birth of Linden, Grace suffered from post traumatic stress disorder and was admitted to a mental facility, where she became a patient of Claude De Beers and later his lover, resulting in the birth and adoption of Willow De Beers.
Death of Roland Houston
Edit
Rape & Pregnancy with Linden
Edit
Relationships
Edit
Winston Montgomery
Edit