Foxworth Hall
Talk

0
246pages on
this wiki
Foxworth Hall is a grand estate in Charlottesville, Virginia. It has been home for generations of the Foxworth family for over two hundred years.
On the property is a lake large enough to ice skate and swim in. The estate also has large gard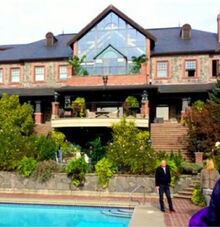 ens and a small living quarters for the servants and groundskeepers.
Some of the mansion's rooms and areas include a ballroom, a trophy room full of stuffed animal heads, a large library, the 'famous' swan room complete with a swan shaped bed (formally kept as a shrine to Malcolm Neal Foxworth's mother who abandoned him as a child).
The third floor contains the bedroom where the Dollanganger children were imprisoned. This room lead to a secret passageway to the attic via closet. The attic had a sound proof classroom, armories full of old clothes including uniforms from the Civil War (and possibly other rooms and/or passageways leading to different parts of the house), leather-bound trunks, books, old furniture and much more. At one point, the children find a picture of their great grandmother, Corrine (their mother's namesake).
During the Christmas party of 1971, Corrine Foxworth, in a state of madness, started a fire in the attic of the mansion, setting the whole house ablaze, killing her mother and husband in the process. Foxworth Hall was rebuilt during the 80s and finished by the time Corrine died and she left it to her grandson, Bart Sheffield.