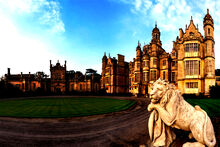 Farthinggale Manor is the ancestral home of Tony Tatterton, the building housed the Tatterton family for over 100 years, built by Tony's great-great-grandfather.
Leigh Vanvoreen lived at the mansion when her mother married Tony, her daughter Heaven lived there with her grandmother and Tony and eventually, Leigh's granddaughter Annie lived there when she lost her mother and stepfather in a car crash.
Ad blocker interference detected!
Wikia is a free-to-use site that makes money from advertising. We have a modified experience for viewers using ad blockers

Wikia is not accessible if you've made further modifications. Remove the custom ad blocker rule(s) and the page will load as expected.