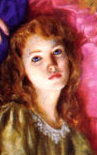 Eugenia Booth
Biographical Information
Birth Name: Eugenia Booth
Relatives: Jed Booth (Father, deceased), Georgia Booth (Mother, deceased), Emily Booth (Sister, deceased), Lillian Booth (Cousin/Sister, deceased), Charlotte Booth (Niece), Randolph Cutler (Nephew, deceased), Philip Cutler (Great Nephew), Melanie Cutler (Great Great Niece),Richard Cutler (Great Great Nephew), Betty Ann Monroe (Niece-in-law) and William Cutler (Brother-in-law, deceased).
Status: Deceased
Occupation: None
Appearances: Dawn (Mentioned only) and Darkest Hour
Portrayed By: N/A
Eugenia Booth, was the sister of Lillian Booth and the great aunt of Philip and Clara Sue Cutler. Eugenia died in her early teen years of fibrosis, years later, Lillian for unknown reasons named her Stepdaughter/Granddaughter Eugenia Grace Cutler (who she hates with a passion), after her dead sister. Eugenia Booth only makes 1 appearance out of the entire series, Darkest Hour and she is only mentioned in Dawn.
Ad blocker interference detected!
Wikia is a free-to-use site that makes money from advertising. We have a modified experience for viewers using ad blockers

Wikia is not accessible if you've made further modifications. Remove the custom ad blocker rule(s) and the page will load as expected.