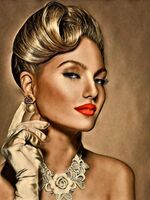 Daphne Dumas
Biographical Information
Birth Name: Daphne
Spouse: Pierre Dumas, Bruce Bistow
Status: Deceased
Occupation: Businesswoman
Appearances:
Portrayed By:
Family Members
 Daphne is Ruby and Giselle's stepmother. Daphne is tall, very intelligent and strikingly beautiful, but these traits belie her cold, calculating and manipulative nature. She brought up Pierre's' daughter, Gisselle for 15 years before Ruby came on to the scene and makes her life a misery, even going so far as to trick her into visiting her uncle Jean in an institution, tricking her into being committed.  She remarried shortly after her husband passes away. She seems cheerful when Ruby and Gisselle return for Christmas and spoils them with gifts, only to send them back to Greenwood when Gisselle's New Years eve party results in the mess of the house. When Ruby got pregnant, Daphne sent Ruby to a filthy back alley abortion clinic and cuts off ties with Ruby when she refused to go through with it. Daphne was only seen briefly in the third book and was later killed in a horse riding accident.
Ad blocker interference detected!
Wikia is a free-to-use site that makes money from advertising. We have a modified experience for viewers using ad blockers

Wikia is not accessible if you've made further modifications. Remove the custom ad blocker rule(s) and the page will load as expected.