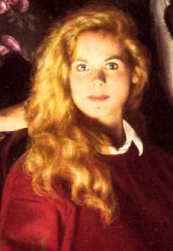 Christie Longchamp
Biographical Information
Birth Name: Christie Longchamp
Relatives: Dawn Longchamp (Mother), Michael Sutton (Father), Jimmy Longchamp (Step-father), Laura Sue Cutler (Grandmother, deceased), Randolph Cutler (Grandfather, deceased), Lillian Booth (Step-grandmother, deceased), William Cutler (Grandfather, deceased), Bronson Alcott (Step-grandfather), Jefferson Longchamp (Brother), Gavin Longchamp (Step-cousin), Ormand Longchamp (Adopted Grandfather), Sally Jean Longchamp (Adopted Grandmother, deceased), Edwina Longchamp (Step-grandmother), Richard Cutler (Half cousin), Melanie Cutler (Half cousin), Philip Cutler (Half uncle), Betty Ann Monroe (Aunt), Clara Sue Cutler (Half aunt, deceased), Patricia Compton (Adopted mother) and Standford Compton (Adopted father).
Status: Alive
Occupation: High School Student
Appearances: Secrets of the Morning (Mentioned only), Twilight's Child (Mentioned only) and Midnight Whispers
Portrayed By: N/A
Christie Longchamp, is the daughter of Dawn Longchamp and Michael Sutton. When she was a baby, her Great-Grandmother, Lillian Booth gave her away illegally to Standford and Patricia Compton. Her mother Dawn and Stepfather James Longchamp reclaimed her before they got married. She narrates the novel Midnight Whispers. When she was 16, her mother and step-father both die in a tragic fire.
Ad blocker interference detected!
Wikia is a free-to-use site that makes money from advertising. We have a modified experience for viewers using ad blockers

Wikia is not accessible if you've made further modifications. Remove the custom ad blocker rule(s) and the page will load as expected.